Fontaine Infinity Flatbed Trailers
So durable, this Fontaine Trailer is called Infinity.
Steel main-beams and cross members, and high-strength aluminum for the ultimate combination of strength and weight savings in the industry.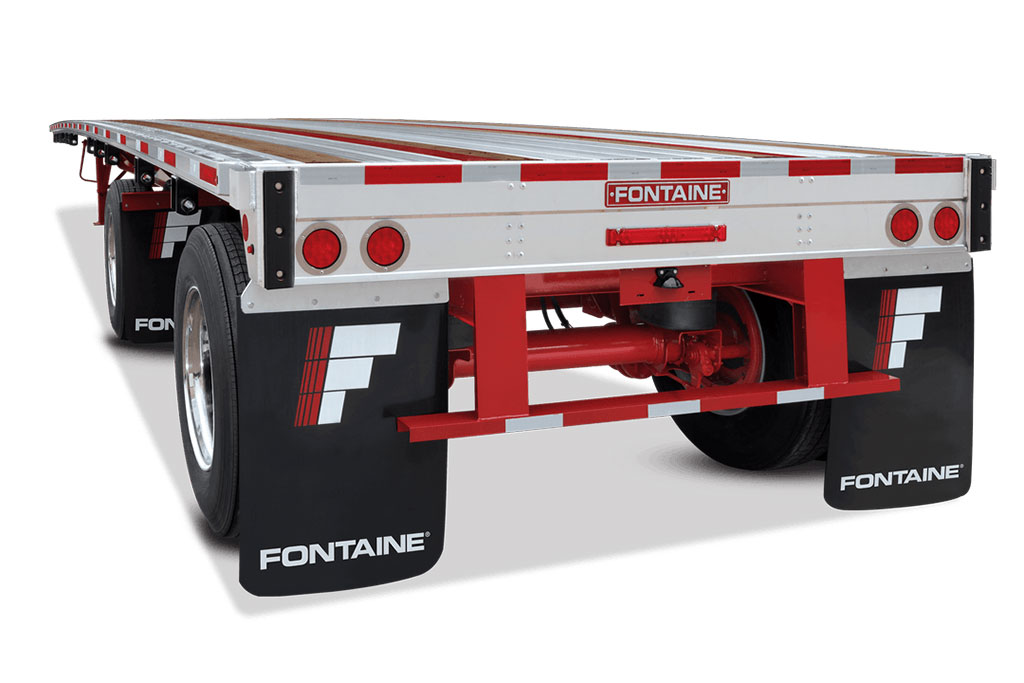 Aluminum/Steel combo flatbed and dropdeck trailers built tough and loaded with top quality components and accessories.
Super strong Fontaine XtremeBeamTM mainbeams feature 25″ steel webs and grade 130 steel load bearing flanges with continuous welds on both sides
Steel I-Beam crossmembers are at 12″ centers for added structural support
Engineered, formed-steel siderail braces provide additional structural support
RASRTM siderails withstand side impacts that send other trailers to the repair shop
Aluminum floor with four full length 1 1/8″ apitong nailing strips
Rubber dock bumpers for rear impact protection, and mudflaps behind each axle to protect the trailer and other vehicles
Broad product line:
– Flatbed or dropdeck
– Slide axle or fixed
– Tandem or tridem
– 45, 48 and 53 foot lengths
– TX twist lock models for hauling containers
– Forklift model works with multiple forklift brands
With 8 retractable twistlocks, the Fontaine Infinity TX handles typical dropdeck loads or two 20-ft containers, or one 40-ft container.
The versatile Infinity SuperiorSlideTM trailer features independent sliding front and rear axles to give you SUPERIOR maneuverability for local city hauls … and SUPERIOR stability on the highway. The versatile design enables you to be "street legal"* in all 50 states and Canada with a single trailer.
The steel front skirt features tapered steel corners for greater durability. A steel reinforced upper coupler plate minimizes distortion and makes coupling easier.
The patented RASRTM(Routed Aluminum Side Rail) is stronger and lighter than steel and makes load securement easier. It eliminates 180 weld failure points and is DOT rated the entire length.
Rope hooks slide in a track to hold the winch pawl so that the winch can free-spool to make it easy to pull strap from the opposite side of the trailer.
Air and electrical lines run down the center of the trailer for easy access and maximum protection from road debris.
Single-piece, steel I-Beam crossmembers on 12″ centers are supported by steel mainbeams built with grade 130 load bearing flanges. Engineered, formed-steel siderail braces provide added structural support.
The perfect balance of strength, weight and economy
Fontaine® InfinityTM trailers combine steel mainbeams and crossbracing with aluminum siderails, floor and rear skirt. The result is a rugged, light- weight workhorse that delivers years of lasting performance.
The Fontaine® XtremeBeamTM mainbeams provide a worthy foundation. Built with heavy-duty steel flanges and welded continuously on both sides, the design and construction are so strong that we back it in writing with the exclusive XtremeBeamTM Limited Lifetime Warranty*. It's just one of the many reasons why more fleets and owner operators are earning their living with Fontaine® than ever before.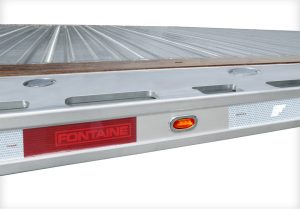 Fontaine Trailer RASR Siderail
The Fontaine RASR routed aluminum siderail is 12x stronger than the competition with more load securement options. Plus, it's DOT rated the full length making load securement much easier. The recessed siderail face protects conspicuity tape for better visibility, longer life, reduced maintenance cost and keeps you DOT compliant.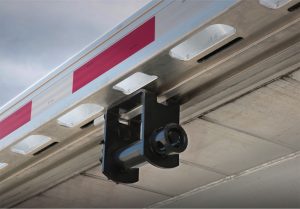 Fontaine Trailer Sliding Winch Track
Includes a sliding winch track on both sides of the trailer for driver convenience and quicker, easier load securement.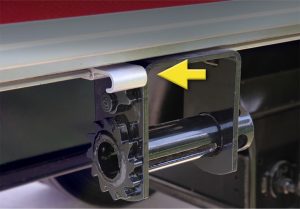 Sliding Rope Hooks
"Driver-friendly" sliding rope hooks also serve as strap retainer clips that eliminate the hassle and reduce securement time. The rope hooks can also be positioned to hold the winch pawl upright so that the winch can "free spool". This makes it easier to pull more straps from the opposite side of the trailer.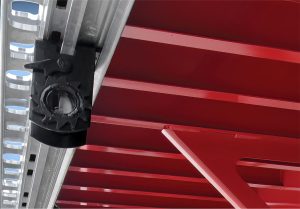 Superior Twist Locks
Instead of putting drop deck trailer twist locks flush with the outside of the rail like our competitors do, we offset ours behind the siderail (left) so that they are protected from forklifts and other impacts.